Before You Begin Writing Your eBook
What makes a good eBook? 
At F-flat books, we are passionate about creating texts that are accessible for current and pre-service music teachers. What do you have to offer that is unique to you? Here are a few examples of topics that would make a good eBook:
How-to books

: Books that describe how to develop a curriculum, program, course, etc.

Resource books:

Books with a focus on providing content that can be readily used in the classroom (lesson plans, warm-ups, sheet music, etc.)

Interactive Children's books: Do you have a story that you want to bring to life through sound? Our flipbook platform provides opportunities for authors to publish interactive books.

Course Companions:

Books that can be purchased by your students to use in a course you teach. 

Workshop Summaries:

Books that are derived from materials delivered at a workshop or presentation.

Other

: The opportunities are endless! 
In general, an eBook should not be an academic paper. It should be backed by research and practice but needs to be relevant and accessible. 
What about supplementary materials? 
In addition to eBooks, we also sell shorter, more affordable resources. These range from unit plans and lesson plans to how-to slideshows and more! If you have a resource that you want to sell as a supplementary resource, let us know! Our best-selling supplementary resources are: 
Practical, and easy to use

Interactive (including tutorial videos and downloadable worksheets)

Targeted to a specific audience
How is F-flat different from other publishers? 
F-flat Books is a hybrid publisher. What does this mean? All of our authors prepare their book edits and designs (or with the help of our list of freelancers). By managing the up-front publishing costs, our authors are able to receive more royalties after launch. You can learn more about how we pay our authors in the "getting paid" section. In addition, all of our authors retain 100% of the rights to their work and are able to cross-sell and cross-promote on other platforms. If you are looking for a traditional publisher, F-flat Books might not be the best fit.
Submitting Work to F-flat for Publication Consideration
To submit a project for consideration, please fill out the form in our submission section. Once we receive your submission, we will email you within one week to confirm receipt. If we decide that the project fits our mission and is a good addition to our catalog, we will set up a zoom call to discuss the next steps. If your project is not a good fit for our platform, we will provide feedback and recommendations. We seek a variety of projects from a diverse group of authors representing multiple viewpoints in music and music education. 
Our submissions are reviewed each year for the following publishing season. While you may submit at any time, your submission will not be reviewed until our submission window re-opens. Submissions for the 2023-2024 publishing season will be reviewed in early 2023. Submissions for the 2022-2023 publishing season are currently closed. 
Once you submit, you can expect the following:
January 1-March 31:

Submission are reviewed in the order they are received. All potential authors will receive a confirmation email.

April:

Projects are selected and our publishing team reaches out to authors to setup an initial zoom meeting. All rejected projects will be notified with a detailed email response.

May:

Authors meet with our publishing team to discuss project goals, contracts, and next steps

June-December:

Projects are launched and supported through our collaborative marketing plan
Content Guidelines
All submissions must adhere to the following general guidelines for written work:
All text is original to the author and citations are used when appropriate. There is no plagiarism present in the text. 

Graphs, images, music notation, and charts are used with full permission or are owned by the author. 

Internal consistency with regards to style is used throughout the text (for example, if you present references in APA style, do so consistently). 
Style Guidelines
At F-flat books, we hope to have books that are as unique as the authors writing them. While we do honor the unique preferences and styles of our authors, we seek to promote products that follow these basic guidelines and we have the right to accept or reject any work based on adherence to the following standards: 
All designs (including a cover design) are clear and easy to read and understand. 

Style is consistent throughout, including (but not limited to):

Spacing

Page Layout

Heading and page number format

Book Covers use modern fonts and images
Note: If a book has strong content but is lacking in editing and/or design, we may request a revision! We have in-house editing and design services available for additional cost OR an author is welcome to use our tools for creating their own designs. See the next section for more information.

All of our eBooks are sold as PDF files (except for our interactive flipbooks, which are accessed online). This makes it easy to access on multiple devices and to print if the purchaser would like to do so. We also have the option for housing cloud-based materials, such as MP3s or WAV files.
Writing your eBook could be as simple as creating text and images on word processing software, self-editing, developing a cover, and converting to a PDF. If you would like to go the DIY route and create your book from start to finish, that's great! If you feel overwhelmed by the idea of self-editing, layout design, and graphic design, we have in-house options to cater to your needs. 
Creating a DIY eBook
Blog posts (such as this one) have great tips for starting your Ebook as well as resources for free design templates. A quick google search will also provide options for free design templates. 
Want more ideas on design? Check out "How to design a great Ebook without design skills."
The creative market has templates that can be purchased and downloaded using a variety of platforms. 
Both Canva and iBooks Author have great templates for creating free eBooks. 
Using Professional
Services
Here is a list of designers and editors who we recommend, and have already worked with our authors in the past. Design and editing samples for each are available by request.

Securing a Copyright and ISBN
Copyright 
While the material you write is your property and will most likely have an electronic trail identifying the author and material, some authors will choose to obtain a copyright for their work. Visit this post for some helpful thoughts on the topic of eBooks and copyright. 
Why would you want copyright? Some authors value the added protection a copyright provides to ensure their work is not reproduced under the name of another author. 
At F-flat books, we do not obtain copyrights for authors but leave them to the author's discretion. To obtain a copyright, you need to go to the U.S. copyright registration website and follow the directions for a literary work. 
Having trouble with your copyright? Email [email protected] and we will try to help answer your questions. 
ISBN
What is an ISBN? The "International standard book number" is a "13-digit number that uniquely identifies books and book-like projects published internationally" An ISBN can be helpful for marketing and searching for specific editions of books published. 
F-flat will provide an ISBN for every resource published through our platform. Should you already have an ISBN for your project, please let us know before we publish your project.

Step 1
Fill out the interested author form and submit a book proposal. The book proposal should include the following: Your name and contact info, the working title of your proposed book, the rationale for the book (1-2 paragraphs), target audience (1 paragraph), your desired release date, your tentative plan for the release of the book, and whether you plan to DIY the editing and design work or hire one of our freelancers. You must also include a chapter/portion from the book OR a writing sample. Please note: we will not accept any proposal without seeing a writing sample. 
Step 2
Once you submit your proposal, we will review your work within four weeks, and a member of our team will reach out to you. Based on your proposal, we will respond with the following: 
-Green light: this means that a project is a good fit for our platform, and we'd like to set up a meeting to move forward. 
-Yellow light: this means that a project is a good fit for our platform, but there may be some concerns with the release timing, writing, and/or other considerations. We will send our recommendations for revision and invite you to respond and possibly resubmit. 
-Red light: this means that the project may not be a good fit and might be best suited for another platform or that there are other significant considerations. We will contact you via email and provide supports and tools for you to pursue other publishing options or continue your journey as a writer. 
Step 3
If we give your project the green lite, we will meet over zoom and set a tentative release date and build out your release schedule, including promotional ideas. Please note: Your final book (with any requested assets/files) is due a month before release. Once we receive the final files, 
We will:
Make note of any changes that need to be addressed (ex. Strange formatting, minor grammatical/spelling errors).

Check to be sure that the eBook is ready to be published. 

Determine pricing based on the length and type of eBook. 
We will not: 
Complete any design work or formatting.

Complete an in-depth editing review (If the book is in need of such editing, we will return it with instructions to re-submit once it is polished).

Change any of your work without your permission. 
Once your eBook has been reviewed and minor changes have been made (if needed), it is time to submit your author materials to populate our website. [Note: If you have published previously with F-flat, there is no need to resubmit author photos and bios].
Step 4
Once you submit all of your release materials, we will set up your author page, establish your vendor account, and test your product. 
Step 5
Launch! We will support you in launching your book using one or more strategies listed in this author packet. Once your work is launched, we welcome revisions/redesigns! However, unless there is a glaring error, we only accept revisions once per calendar year. 

Getting Paid for Your eBook
Your book has launched, you're promoting it like crazy, and now it's time to get paid for your work! As an author-centric company, our authors retain the majority of sales. Because of this, we look for authors who are motivated to promote their amazing work and market their materials.
We have two royalty structures for authors.
The default royalty amount for each work is 50%.
Authors seeking to receive more royalties can become a member of our site and receive 70% royalties from all of their book sales. [Our membership cost for 2022 is $99 for the year].
Which level is right for you? If you are confident that you will net more than $99 for the year, it makes sense to become a member and receive the higher royalty rate. This royalty structure allows us to be competitive with our royalty rates while also building a sustainable company.
Membership status is attributed from the start of membership until one calendar after. For example, if your membership begins on 9/1/2022, you will continue to receive membership-level royalties until 9/1/2023.
For multi-authored projects, only one author needs to hold current membership status to receive the total 70% royalty rate.
We use PayPal payouts to pay all of our authors and payments for single-author books are sent on a biweekly basis. Payments for books with multiple authors, or for bundled books go out immediately after purchase. Each payment reflects the royalty percentage of sales, minus tax.
If you do not have a PayPal account, you must set one up to be paid for your work with F-flat.
Two authors: a case study
So much of our authors' success is found in the process of self-promotion. If you have never promoted your work before, it can feel strange and even like you are bragging about yourself. Trust that your content is valuable and that you can help others through sharing this work. Plus, you have spent hours learning your craft and putting together content. You should get paid for what you do!  Check out the details from two of our authors (whose names are kept out for confidentiality purposes) during a 2 month period of sales in which they both launched an eBook.
Author 1 launched a $17 eBook that was less than 50 pages long and contained some interactive content. Author 1 shared about the book in their Instagram stories, created a YouTube video talking about their product, and created a blog post with a "freebie" resource from their book. Author 1 made $850 worth of sales in 2 months and was able to develop two more resources with a wider audience and better launches following the success of their eBook.
Author 2 launched a $17 eBook that was less than 50 pages long and contained some interactive content. Author 1 did not share about the book on social media or prepare any other promotional materials. Author 2 made no sales during that 2 month period.
Time after time, we've seen the same result. Authors who self-promote get the best results! If you feel like you are self-promoting and still struggling to see results, let us know and we can help.

Now that you have written your eBook and it has been uploaded to our site, it's time to promote your work! At F-flat books, we will work hard to do promotions on our end through social media and email campaigns. However, the best promoter for your work is YOU. People like to buy from those they know and trust and letting the community know about your work and why it is important will help you sell your material. Below are some (of many) ways to promote your book with us. Leading up to your book launch, you will receive an email from us including a digital poster announcing the launch of your book! 
Promote via email and social media:

This is the most basic way for you to promote your work. When your book comes out, you can do the following:

Send an email blast to friends, colleagues, and family members with your digital poster and a link to the book. 

Create a Facebook/Twitter/Instagram post with the digital poster we provide. Talk about the book in your stories and tag anyone who may be interested!

PINTEREST. Did you know that much of our traffic comes from Pinterest? You can create a pin for your book (Canva has great templates) to post and share. Send us your pin and we'll add it to the F-flat page!

Write a blog post on our site:

This is a proven way to drive eBook sales. Write a blog post about a topic covered in your book and offer a portion of your material for

free

as a teaser. Then, we can link to your book at the bottom of the post. Even better– post your blog post in a forum on social media and draw more people to your product. 

Create a YouTube video about your book:

People like to see YOU talking about your work! Create a short (1-3 minute) video about your book. Describe the contents inside (you can even screencast a sample of the book) and talk about your experience and why you think this book is so great. Send the video to

[email protected]

and we will upload it to our F-flat books YouTube channel. Then, we can share this video on applicable online forums and social media outlets. 

Find your "influencer":

Who are the loudest, most influential voices in your field? For example, if you write a book on general music, who are the most respected general music practitioners? Ask them to review your book and share their thoughts via social media. YouTube reviews from well respected channels can also be very effective for this! 

Share at conferences and workshops:

Are you giving a presentation? Provide a link for session attendees to access your materials online. 

Podcast it out:

Find a relevant podcast and ask if you could be a special guest to promote your new work! 
Create a virtual book launch: Create an event on FB or some other social media platform and host a virtual book launch. You can use this opportunity to offer discounts and share insider information about your book. Want us to help you host a book launch? Send us an email!

Before your book is published, you will receive a login for our WordPress site. Enter your login details at https://fflat-books.com/fflat-login/ This will enable you to see the site on the "back end", create blog posts, and update your personal information.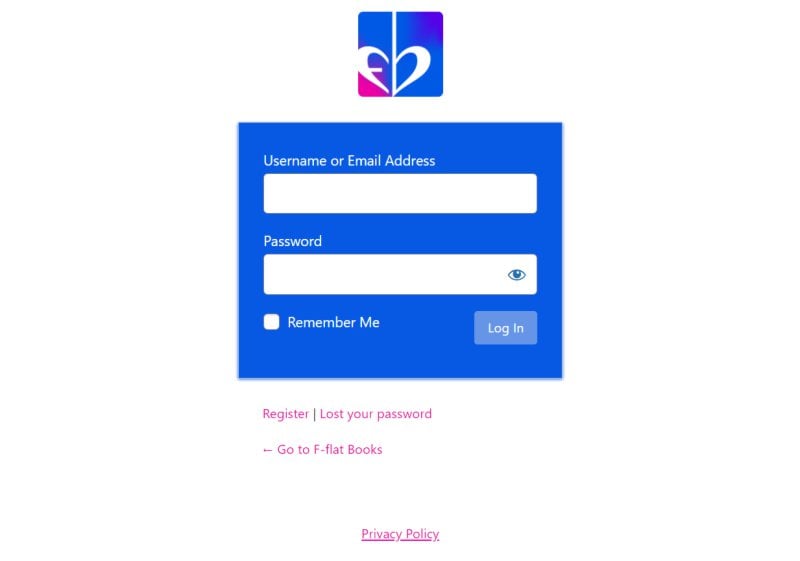 At F-flat Books, we use our blog platform as a type of digital magazine. We seek to publish articles and posts from a variety of authors on a wide range of topics. In general, our blog posts follow the same basic format:
Posts are between 800-1500 words

Posts are written in a conversational tone, with proper spelling and grammar 

Posts contain accompanying images and/or videos that are high quality  
Once you have a login for F-flat, you are welcome to submit a post on WordPress at any time! If you are interested in hosting a regular column or series, contact [email protected]