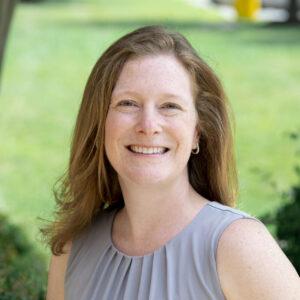 Theresa Hoover is a music educator, speaker, and writer. She is an advocate for student voice in the music room and helps teachers empower students throughout their musical experiences by transforming their classrooms into student-centered learning environments.
Theresa has taught instrumental, general, and vocal music in a variety of settings, most recently teaching middle school band in Northern Virginia. She holds a bachelor's degree in music education from Penn State University and a master's degree in wind conducting from West Chester University, both in Pennsylvania. In August 2022, Theresa will begin working toward a PhD in music learning and teaching at Arizona State University.
Theresa is a recognized presenter and clinician at local, regional, and national level conferences. She is a Google for Education Certified Trainer, Google Certified Innovator, and Noteflight Learn Ambassador, frequently working with teachers to help integrate technology into their music classes.
In addition to her school teaching, Theresa served as the founding director of the Chester County Youth Wind Ensemble and was on staff of the Virginia Winds Academy. She has also been the guest conductor for several elementary and middle school ensembles in Pennsylvania and Virginia.
Theresa is the co-author of Pass the Baton: Empowering All Music Students, published by Dave Burgess Consulting, Inc. Her writing has been featured on numerous websites as well as on her own blog, Off the Beaten Path: A Music Teacher's Journey.
When not teaching, you can find Theresa curled up with a good book, on the running trail, traveling to visit family and friends, or spending time with her dog, Dizzy.
Find Theresa :