Elementary Honors Choir Alternative – written by Theresa Sharp
Like so many of us, Aubree Windish, a student teaching supervisor at West Chester University, had to face events being cancelled this past month. She was supposed to guest conduct the PMEA District 4 Fifth Grade Chorus Fest. This is an event that students had been preparing for and looking forward to for a while. Before it was officially cancelled, Aubree sought out ideas to provide students with an experience that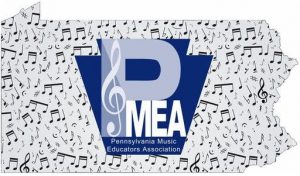 would still be valuable to them through music-making. There were 150 students involved with the Chorus Fest and it was not a guarantee that all of them had access to the internet or support at home. This is when Aubree came to the Music Service Learning project for help. 
Aubree worked with Theresa Sharp and Megan Sendatch via email to find activities to share with teachers and students to keep them making music. Solutions that were discussed were creating a physical repertoire packets that students could complete (think "A Young Person's Guide to the Orchestra", but for the music of their concert), making rehearsal tracks for students who have online access, creating videos to practice body percussion required for some of the repertoire, and having individual choir directors put together a "concert" through video compilation. All of these solutions would showcase students' and teacher's support and love of making music together even when everyone is apart. 
This all goes to show that even when we feel like we are missing out on so much, there are ways to continue supporting each other until we can make music in the same space once more.
Worksheet Packets Grades 1-4 – written by Renee Short
One great part about the Music Service Learning project is that it offers many resources for teachers to use in the music classroom. A recently finished project called Worksheet Packets Grades 1-4, is a great example of what this project is all about. This project gave student helpers the chance to help gather resources for free worksheets that can be used in elementary music classrooms from grades 1-4. These worksheets covered a range of topics as follows: musical dynamics, the anatomy of singing, musical forms such as ABA, AB, and Rondo forms, and musical "roadmaps" such as learning the signs for D.S. al coda, Codas, D.S. al fine, and fine.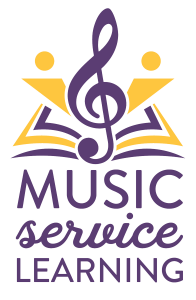 This project was pulled together by the student helpers Jennie Jones and Emily Burkhart. Together, they scoured the internet for free resources. According to Ms. Jones, this was one of the hardest parts of the project–many resources exist online, but they seem to always come with a "catch", like a requirement for a subscription or other monetary value. Thanks to the resource listings done by other Music Service Learning helpers, a large database has already been put together for those who do not know where to start with gathering online resources. This database allows viewers to use filters to differentiate between free and paid for resources.
The helpers found that finding certain specific worksheets was challenging, like worksheets for the anatomy of singing. Information on the anatomy of singing can be hard to find but is definitely necessary for singers to learn about. The project requester was very pleased with the information that the helpers found, although most of it was geared towards secondary education. So far these resources have only been used by the requester, but will be available for anyone else who needs it. Together, the Music Service Learning project is helping students continue to receive great music education from a distance! 
Virtual Choir Rehearsal Grades 3-5 – written by Lea Wehnau
Virtual Choir Rehearsal Grades 3-5 –  written by Lea Wehnau
In this project, Austin Gaskin, a music teacher at Capitol Hill Day School in Maryland, requested help in transitioning his grades 3-5 choir to a virtual format. He was looking for a way to have rehearsals with his students during quarantine but wasn't sure about the steps to take. With the assistance of Abigail Kramer and Kathryn Quay, they mutually decided that practice tracks would be the best rehearsal tool. With the help of Hunter Browning and his piano abilities, Abigail and Kathryn were able to streamline the effectiveness of their rehearsals and sectionals. They used the GarageBand application to make these practice tracks and sent them to Mr. Gaskin for effective use. When the project was complete, Mr. Gaskin thanked Abigail and Kathryn for their help and acknowledged that it was a tremendous assistance to him.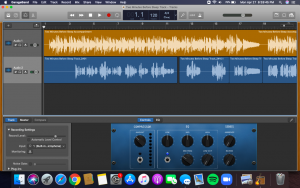 Abigail and Kathryn have both been a part of the Music Service Learning project since the beginning and were excited to work together on this project. Abigail is always involved in both music making and educational growth, as she was the director of Golden Blues A Cappella and an Assistant Teacher for Music for Young Minds. Kathryn loves being involved in student chapters of NAfME and ACDA, and this love transfers to her involvement in MSL. Abigail and Kathryn are grateful to be members of this amazing team of MSL helpers.