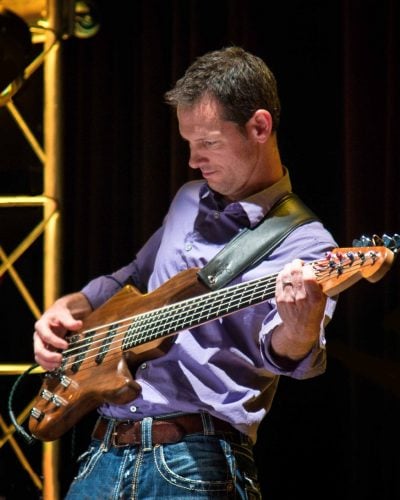 Grammy nominated music educator Steve Holley served as the Producer for the Commercial Music Program at the Kent Denver School outside Denver, CO, for nineteen years. During his tenure, the R&B, soul, salsa, and jazz bands of the CMP were recognized by DownBeat magazine's Student Music Awards 15 times, performed hundreds of gigs throughout the United States, and performed abroad at the Festival del Tambor, Montreux Jazz, and Porretta Soul Festivals in Cuba, Switzerland, and Italy, respectively. They performed on dozens of radio and television broadcasts, held standing gigs at local clubs, recorded at some of the most hallowed studios in the country, and performed with dozens of Grammy caliber artists, all while taking on a full course load as a typical high school student.
Steve holds a B.M. in Jazz/Classical bass performance, a M.M. in Jazz/Classical bass performance from the University of Memphis, and is currently pursuing a Ph.D. in Music Education at Arizona State University. In addition to being an educator, arranger, performer, author, and musical entrepreneur, Steve is a sought after clinician/speaker with performances and presentations given at the Jazz Education Network, Association for Popular Music Education, Modern Band Colloquium, National Association for Music Education, and several state MEA conferences.
His best-selling book, Coaching a Popular Music Ensemble; Blending formal, non-formal, and informal approaches in the rehearsal is quickly becoming a fixture on the bookshelves of popular music educators and in innovative teacher training programs. Most recently, he was invited to serve on the board of the Association for Popular Music Education and the editorial review board of the Jazz Education in Research and Practice Journal.
Find Steve :
Some of Steve's student's performing Change can be difficult. But oftentimes, challenging the status quo yields remarkable results. As our traditional definition of teaching and learning continues to transform, what are a few [...]