Creating an Online Resource Database – written by Julia McBride
Since mid-March, Julia has been fortunate enough to work as an MSL Helper. It has been an amazing source of volunteering opportunities and connection building in the midst of online learning. Before COVID-19, Julia was in the midst of student teaching where she was enjoying several weeks of working in a middle school music placement. Soon after quarantine began, she learned about MSL and knew that she needed to get involved.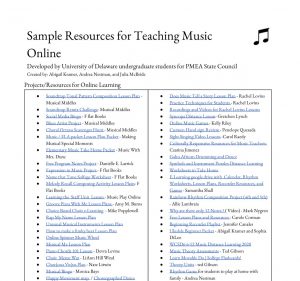 One of the first projects Julia had the opportunity to work on was creating an online resource database for Mr. Henry Pearlberg and his music educator-colleagues in Pennsylvania. As teachers began the transition to online learning, a sudden need for dependable, user-friendly online learning resources became apparent. Mr. Pearlberg wanted MSL to provide him with a working list of links and resources for him and his colleagues to use. For this project, Julia led a team consisting of two of her incredible, fellow-UD undergraduate peers, Andrea Nestman and Abigail Kramer. Together, they searched throughout the internet to find these very resources. Hours of searching through Music Educator Facebook groups and blogs eventually resulted in a long, formative list of useful resources. Andrea, Abigail, and Julia were able to compile 100+ resources in this database, ranging in subject area and format of the resource. They were able to feature a variety of resources for elementary, secondary, post-secondary, general, choral, and instrumental music topics. The team was also able to feature some of the resources of their own creation from our methods courses.
Getting to work on this project was a very gratifying experience for the team, and it was a great start to their time with MSL.
Piano and Vocal Practice Tracks – written by Sarah Buterbaugh
In this project, Megan Fitzharris, the choral director at Briggs Chaney Middle School in Silver Spring, MD requested practice tracks for four choral pieces. Music Service Learning helper Nash Helsel gladly took on this project, spending several long hours entering each part into GarageBand and adjusting every little part of the music to make it sound perfect. After receiving the finished product, Megan really enjoyed the practice tracks, and Nash had a ton of fun creating them. Nash said it took a lot of patience and tedious work to make the subtle changes in dynamics and tempo. The goal was to make the piece sound realistic rather than robotic, and in the end it was a success.
 Each piece had at least one piano part, while some pieces contained flute and djembe parts as well. After spending all of this time inputting each part, Nash really came to love the music he was given. As an instrumental major, it really heightened his appreciation for choral repertoire. One of the great things about the Music Service Learning Project is that student helpers can choose what activities they take part in. Thanks to MSL, Nash got to make the decision to step outside of his comfort zone and use his skills to grow as a musician. The Music Service Learning Project is continually ensuring that we can all stay connected through music, even during this difficult time!
Compilation Video Help – written by Kathleen Carpenter
One beautiful thing that has come from distanced learning, is the virtual choir. What once seemed like a very challenging task, has turned into a common goal among choral directors. For this MSL project, Emily Burkhart, a recent graduate of West Chester University, started off helping with a small virtual choir project that blossomed into something even larger. A request came in for a student's help with creating a virtual choir video for the Rodgers Elementary School 5th grade choir. This video would show the 5th-grade choir singing "God Bless America" for a virtual Memorial Day ceremony. Emily volunteered to help, using her technology skills, as well as her general musicality and ensemble knowledge.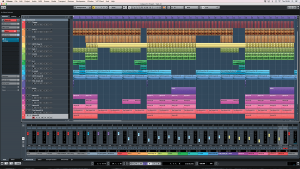 After recognizing what a wonderful job Emily did on this project, she was asking to help with a senior orchestra small ensemble video project, and two high school choir video projects. Emily used various programs and tools to complete these projects, including iMovie, Keynote, WeVideo, Audacity, and GarageBand. She reported that creating these particular types of videos was much easier than expected, which helped immensely. Emily also mentioned that she was able to communicate easily and frequently with the project requesters in order to make sure the project was exactly what they pictured. Emily says, "This has been an amazing experience because I never knew I would be able to do something even close to this, but these videos gave me the opportunity to learn about this new realm of creating music with others that we can all use in the future of [the] unknown we are living in currently".