Musicast Episode 23: Emily Desmond- Bringing the Real World into the Classroom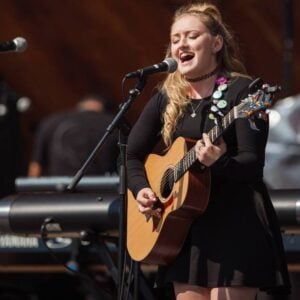 Lowell, MA native singer-songwriter Emily Desmond has been active in the New England music scene since the age of 13. She has grown from performing with just a small acoustic guitar to working as a professional vocalist and singer-songwriter.
She began her education at Berklee College of Music in 2012, graduating in 2016 with a B.M in Songwriting with a focus in vocal technique. Here, she honed her craft and studied with multiple internationally acclaimed artists, writers, and professors.
After the release of her 5-track EP Commencement, Emily received much praise and response from the Boston singer-songwriter scene for her lyrics, which range from witty & honest, to gut-wrenching & sincere. As well as recognition from the Lowell Sun and Boston Magazine. Emily has been awarded an honorable mention for Best Folk Song from the USA Songwriting Competition and nominated for Best Female Artist by the International Acoustic Music Awards.
Today, Emily continues to perform and writes songs for her own repertoire and is hired to write a variety of songs for advertisements, entertainment media, and special occasions. She currently teaches private voice and guitar lessons at DW Music Lessons, and is a Music Specialist at a private school for Special Education in Waltham, MA.
YOU CAN VIEW EMILY'S SITE
HERE 
You can find Emily's social media here!