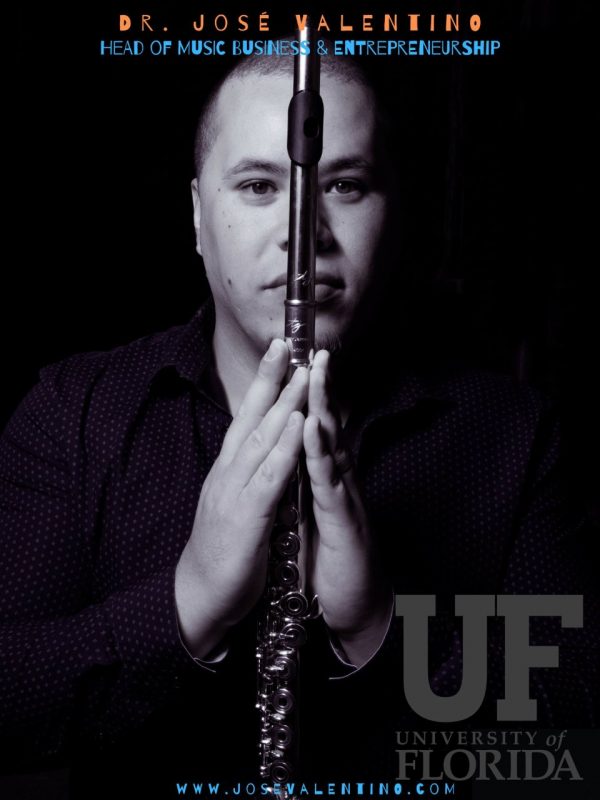 Internationally-acclaimed recording and performing artist, Dr. José Valentino Ruiz is an EMMY® Award Winner, a multi-GRAMMY® Award Nominated artist-producer-engineer, a multi-instrumentalist, composer, missionary, and educator known for his passionate performances, versatility, and fluid expression on the flute, saxophone, bass, and Latin percussion. José Valentino has worked for American Idol and X-Factor, produced 60 albums, scored 30+ nationally-televised commercials, & performed in over 1100 concerts. He is CEO/Director of Production & Entertainment for JV Music Enterprises LLC., Strategic Communications Director for TJ Flutes & Saxophones UK Co., Artist-in-Residence and Entrepreneurship Coach for the nationally-recognized music outreach program – Diaz Music Institute (501c3), Composer for MVProds & Hayden 5 Inc., and Head of Music Business & Entrepreneurship at the University of Florida.
Some accolades and awards for his works include: the 2018 EMMY® Award (i.e., Best Cultural Documentary), 2015 & 2016 Latin GRAMMY® Award Nominations (i.e., Best Jazz & Best Instrumental Album), the 2017 Parents' Choice® Award – Gold Medal, 51 DownBeat® Student Music Awards between 2006 – 2019 (record holder in jazz soloist & group, blues/pop/rock soloist and group, Latin group, engineered studio and live engineered recording, and Classical soloist categories), the 2018 Global Music® Award – Gold Medal (i.e., Best New Age Music Album), the 2019 Big Easy Entertainment Award (i.e., Best Latin Jazz/World Music album), the 2006 International Yamaha® Young Performing Artist Award, Winner of the National Flute Association's Jazz Soloist Competition, "For Bass Player's Only" Magazine's Featured Bass Artist of the Month (November 2017), and three-time International COG Teen Talent Winner – Woodwind Category. José Valentino is a voting member and also serves on committees for The National Academy of Recording Arts and Sciences, The Latin Academy of Recording Arts and Sciences, and The Gospel Music Association, where he advises on the quality of submitted albums' music production and audio engineering.
As prolific recording artist & producer with 60 albums to his credit, José Valentino has produced 16 solo albums through his indie label that are available on all media streaming platforms and online stores within the following musical styles: contemporary jazz albums – "A Walk With God" and "Mosaico", a world-fusion album – "A Traveler's Journey", two straight-ahead jazz album – "A New Standard" and "Remembering", a singer-songwriter album – "The Other Side of Love Songs" with EMMY® Award Winner Gualo, a hip hop album -"Shade & Color", a solo bass album – "Soul Speaks", a solo jazz piano album – "Expressions: The Jazz Piano Album", two Latin jazz albums – "I Make You Want To Move" and "Ahora Más Que Nunca", a world music album with the renowned flutist Jim Walker – "We Are One: An Exploration of Latin American Music, two instrumental albums with Latin GRAMMY® Award Nominee Bruno Miranda – "Chapter II" and "His Presence", a folk instrumental album – "Wind of Revelation", and a funk/fusion album – "Real & Raw: The Live Sessions." Currently, José Valentino is working on an innovative album, "The Global Funk" which features his unique musicianship on multiple instruments and compositions that infuse powerful lyrics sung by José in Mandarin, Swahili, Spanish, Hindi, and Zulu. In 2019, his feature with The Paris All-Stars Orchestra, a revamped arrangement of "Careless Whispers", reached #4 on the Top 100 Salsa Charts.
Working as Film/Media Composer & Post-Production Engineer, José Valentino has produced music for numerous nationally-televised documentaries for Hayden5Media and MVProductions LLC. (i.e., PBS's "Art Vessel", "Improv island"), a feature film (i.e., "Sunbelt Express"), and commercials (i.e., McDonald's, Coca-Cola, Swiffer, The Economist, ESPN, etc.). His collaborative work has been the recipient of numerous awards by the Gasparilla International Film Festival, Los Angeles Shorts Festival, Chelsea Film Festival (3x), Newport Film Festival, Bahamas Film Festival, Napa Valley Film Festival, 15 Minutes of Fame Film Festival, International Film Festival, Champs Elysees Film Festival, and Best Short Competition.
For nearly two decades, José Valentino has enjoyed an exhilarating performance itinerary delivering high-energy performances around the world in the styles of jazz, Latin jazz, funk/fusion, pop, R&B, world music, and singer-songwriter. José Valentino has shared the stage on numerous occasions with musical legends such as Chick Corea, Paquito D'Rivera, Airto Moreira, Alex Acuña, Jim Walker, Aaron Neville, Poncho Sanchez, El Gran Combo De Puerto Rico, Victor Wooten, John Clayton, Hubert Laws, just to name a few. He is also the musical director for GRAMMY® Award-Winning Childrens' Music Artist, Mister G, and travels across the country providing workshops and songs to children that pertain to creative identity development and musical expressivity. Some of his festival and conference appearances include Carnegie Hall, Tanglewood, TEDx Talk, D.C. Jazz Festival, Low Country Jazz Festival, Seabreeze Jazz Festival, Clearwater Jazz Holiday, Cape Coral Jazz Festival, Ft. Meyer's Jazz Festival, Winter Park Jazz Festival, Houston Latin Jazz Festival, NAMM Show, Pilgrimage Music Festival, Festival Miami, Van Wezel Theater, The Keywest Theater, and WinterFest. José Valentino has performed with his band or as a featured artist in concert halls and festivals in Canada, U.S.A., Spain, Guatemala, Nicaragua, Colombia, Brazil, Turkey, Austria, Germany, France, Hungary, Liberia, Greece, Costa Rica, El Salvador, and Puerto Rico.
Scholastic passions have fueled José Valentino to presented research, compositional premiers, and lecture-based performances at academic conferences including the Jazz Education Network, Society for Arts Entrepreneurship Education Conference, National Association for Music Education, Texas Music Educators Association, Florida Music Educators Association, Association for Popular Music Education, National Flute Association, World Flute Society Convention, Tennessee Music Education Association, and other venues. His professorial employments have included the University of South Florida as Instructor of Record (2013 – 2016), and Lee University as Assistant Professor of Music Business, Production, and Jazz (2016 – 2019). José Valentino has also worked as Music Instructor exceptional student education students [elementary and middle school] at Pepin Academies in Riverview, FL, and as Music Production Coach at King High School in Tampa Bay, FL. As an endorsed Artist-Clinician for Trevor James Flutes & Saxophones (UK), Wyn Bass Guitars (USA), Tune Bass Guitars (Korea), Bari Mouthpieces and Reeds (USA), Black Diamond Strings (USA), Super Sensitive Strings (USA), and Faith Bass Guitars (UK), he maintains an active itinerary working diligently with music students across the country cultivating mission-focused artistic creations and expression, as well as savvy entrepreneurialism among students for the globally-expanding music industry. Through his tutelage, many of José's students have become leaders in the music business having done extensive tours with Bruno Mars, Stevie Wonder, Prince, Hall & Oats; having obtained audio engineering positions for NBC Universal and Sony Music; having established non-profit music education centers and performance booking agencies; and, having self-produced and self-brand albums that have reached Top 5 on Billboard Magazine, iTunes Charts, and others.
His award-winning music entertainment and production company, JV Music Enterprises LLC., is comprised of a unique team of top-industry producers, instrumentalists, composers, audio engineers, and communication specialists. The aim of the company is (1) to offer the best consultation and music production/recording services for new music business start-ups, performing/recording artists, and non-profit organizations in music education; (2) to facilitate strategic marketing initiatives for independent artists, and (3) to provide booking and management services for curated performers of various musical styles at affordable rates.
Academically, José Valentino holds four degrees:
Bachelor of Arts (B.A.) in Musical Studies (emphasis in Music Theory)
Master of Music (M.M.) in Instrumental Performance (emphases in Classical Flute & Studio Music/Jazz)
Doctor of Ministry (D.Min.) in Global Outreach (emphases in Missiology & Ethnodoxology)
Doctor of Philosophy (Ph.D.) in Music, concentration in Music Education (cognates in Music Production, Performance, Applied-Lesson Pedagogy)
Find José :
Ebooks by José Valentino Ruiz
Posts by José Valentino Ruiz
This week, we're highlighting Jose Valentino Ruiz in our music beyond the classroom series. Not only is Jose one of our authors at F-flat books, he is an incredible musician who wears many hats. University [...]
How To Confront Father Time as Educators What an exciting time it is for all educators! Another fresh year with eager and gifted students who are slightly nervous and shy. Yet, they're excitedly looking to [...]