For this installment of our music beyond the classroom series, we caught up with master-of-all-trades, Sami Slovy. In 15 years, Sami has built a name for herself as a well-respected person in the music industry. She's worked as a tour manager (Neko Case, Trombone Shorty), production manager (Beach House, Haim), and has an impressive list of credits as a stage manager. I have a personal goal of highlighting more women in the music industry and am so grateful that Sami offered her time and expertise for others looking to make it in management. 
Tell us about your life as a stage manager. What does your day-to-day work look like?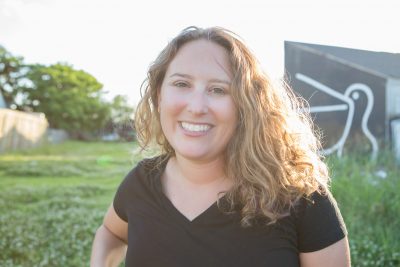 Every job and every gig is different and has its own set of challenges and successes. It's a long work day, but can be very rewarding! Safety should always be at the forefront anytime you are working as a stage manager. It's also important to remember to stay calm (you're not landing anyone on the moon!), ask if you don't know, and to treat others how you want to be treated.
On a corporate show, it's usually a very early call time, and you are working with a show caller to move people and furniture on and off a stage, typically in a hotel ballroom or convention center most of the day. In this role I am interfacing with audio, lighting, video, presenters, producers, clients, etc. The shows have precise timing, and a focus on presenting an absolutely perfect show down to the second.
At a music festival, it's a little different, as you are starting your advance process a few months prior to the actual event. Festival days also start early, and you are typically facing the elements outdoors. It's important to make sure your structure and all elements are in tact, and that everything on the stage and in the stage area are safe for your working crew, musicians, and attendees. Each morning, I like to get with my tech crew and stage hands and go over the plan for the day – make sure everyone is comfortable with the movements on stage and their responsibilities, brief them of any anticipated weather, and I find it's beneficial to get everyone on the same page for the team mentality to last throughout the day.
It sounds easy on paper but there are a lot of moving parts and pieces that need to be considered and you have to be two steps ahead of everything happening on the stage.
How did you get involved in music? What led you there? 
I have always loved music, and it's been a very important part of my social life for as long as I can remember. It was quickly evident that I was not cut out to be a musician, but I still always listened to and attended concerts. My Dad used to always say that I should be a radio DJ. When I was in college I had an opportunity to intern with a large festival – and that is the first time in my life it occurred to me that there are many careers and work opportunities that revolve around music. From that one internship I met a ton of people in my local community, and one job led to another and so on.
Who were the biggest mentors in your field? 
It's hard to point to just a few. Over the years, there have been so many. I try to learn from my colleagues on every show. Sometimes I learn a lot from a touring artist, a lot of things I learn from technicians, producers and stagehands, etc. There is always something to learn on every show.
When I was an intern, the festival was run by a few badass women who encouraged me to be passionate, and explained my mistakes in a way that I learned from them… their encouragement has stayed with me to this day. Another time I managed a local band. My primary colleague (who is still a friend and mentor to this day) was always so creative and really taught me how to be patient when working with creative people, the right way to ask for things, and to have a fearless approach. The confidence I gained from that position is unimaginable, and I still call that person for advice when I really need it.
Every show is different, and every day I work with different people who are all excited to be at work.
What is the hardest part of your job? 
Every gig faces challenges. There have been several instances where I have worked with men that make me feel very uncomfortable and say or do inappropriate things. I have learned over the years that this should never be tolerated and now I am very quick to shut down unwelcome behavior.
The hardest part is being a freelancer! Sometimes it's a feast of gigs and sometimes it's famine. You have to maintain so many relationships and stay at the forefront of people's minds to stay working as a freelancer.
What is the best part of your job? 
The best part of my job is working with so many different people from all walks of life as well as the variety of gigs from being an independent contractor. Every show is different, and every day I work with different people who are all excited to be at work. It makes the long days so much easier when you're around cool people that want to be there. Also, I get to see so much incredible music, and occasionally have some epic experiences!
Did you have any influential music teachers in your life growing up? Tell us about them. 
Funny, for having no musical skills whatsoever, I vividly remember my piano teacher as a young child and my elementary school music teacher. They were both incredibly kind and patient teachers. I guess I loved music so much and I remember their enthusiasm for teaching music.
What do you wish you had in school that would have better prepared you for what you're doing now? 
I wish I would have paid attention in my accounting and excel spreadsheet classes. As a freelancer, it's a lot to keep up with your income, write-off expenses, taxes, etc.  Everything in the music industry is organized in excel, so I feel like I could have paid better attention to have fancier spreadsheets! Primarily, I find that I have learned the most about this industry from hands-on experience.
What advice would you give to someone trying to "make it" in the music industry? 
You will work with everyone you meet again, so be nice. Volunteering at events and festivals and getting an entry level job at a local music club is a great way to see if/what you are interested in. If you want to make it, you will. Persistence and clear communication is key. And, it's all about who you know. Find a supportive community that will lift you up and support each other!
Want to check out more "Music Beyond the Classroom" interviews? Click here.