Indian Popular Music: Defined
In India, popular music is Bollywood music! New Bollywood songs are #1 in the list of favorite genres in India, followed by old Bollywood songs and other regional music, while international Pop music is at #5 (ifpi 2019, p. 25). 
Contemporary Bollywood music producers have been combining western popular music with Indian traditional music to evoke cultural connections that shape this unique genre of music. For this very reason, popular music education in India, though available in limited forms, strives to create versatile music practitioners capable of adapting quickly to the evolving taste of Indian listeners influenced by their continuous exposure to global mass media and popular culture. 
Educating Students in Popular Music
Popular music education has been long neglected in India. Music education is not available in most schools, and there is a severe shortage of qualified music teachers, curriculum, and infrastructure. In a minimal number of schools where music is included in the curriculum, only Indian classical music instruments are available, leading to low awareness of contemporary music genres among students.
In the major metropolises and to a limited extent in some tier-2 cities, private music education providers offer popular music teaching services to private schools. This makes quality in-school music education accessible only to a minimal number of students who come from high-income backgrounds in a country with nearly 300 million children in schools. Even for this limited group of students, the popular music learning experience and quality of instruction often end up below par compared to international benchmarks due to the lack of proper curriculum, qualified teaching talent, and poor execution of the program itself. School leaders and administrators often view music only as an extracurricular activity that boosts the social reputation of the school, and not as a contributing factor to the holistic development of children.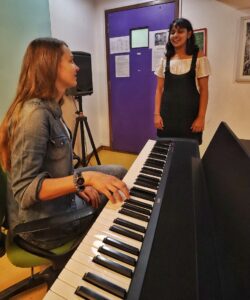 Outside of the school system, contemporary western music examination bodies such as Trinity Rock & Pop and Rockschool have gained popularity among students and parents in recent years for private music learning. Private popular music academies that offer their own curriculum incorporating music performance, music theory, and music technology have also emerged in most metropolises. However, they address only one part of India's popular music learning problem, which is western contemporary music, while ignoring the Bollywood and traditional music elements.
Private institutions in India that offer popular music education at the tertiary level operate outside the university system and have been generally successful in developing popular music courses that cater to the professional industry demands. Three institutions, The True School of Music in Mumbai, Global Music Institute in Delhi, and the KM Music Conservatory in Chennai offer structured popular music programs that are anywhere from 1 – 3 years in duration. Several other smaller institutions across the country offer independent "short professional courses," focusing on specific aspects of popular music such as EDM, DJ, sound engineering, songwriting, and music performance.
One of the significant challenges for India's popular music institutes is the availability of qualified teaching talent within the country. Many institutions source faculty from abroad to fill this gap. While the practice of expatriate faculty recruitment addresses one issue, the lack of sufficient professional industry experience within India, particularly in Bollywood music among expatriate faculty, poses yet another challenge in delivering courses that bridge western contemporary music to Indian popular music. 
While the fees charged by leading popular music institutes in India are still only a fraction of the fees charged by the US and UK counterparts, they are perceived high in comparison to professional courses in STEM, business, or law. This, combined with the lack of accredited undergraduate study options, severely limits funding options for students who wish to pursue a career in popular music in India at the moment.
New Developments in Popular Music
In 2014, the Indian government established the Ministry of Skill Development and Entrepreneurship. Also, they designated various sector skill councils under it to boost employability and enterprise. This establishment has given a much-needed push to establish skill qualifications within the media and entertainment sector in India, under which music is an independent vertical. In 2019, the Media and Entertainment Skills Council of India (MESC) published the first set of National Occupational Standards and Qualification Packs for music mapped to the National Skills Qualification Framework (NSQF). This codified set of skills helped pave the way for formalizing further skill qualifications in popular music with an India focus.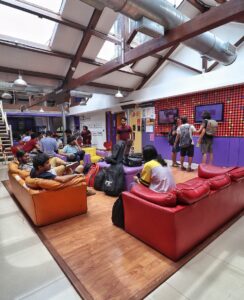 The True School of Music was the first to offer career-oriented popular music courses in music production, music performance, and sound engineering with integrated skill certification from MESC in India. True School also established articulation agreements with UK universities as an alternate route to address the lack of local undergraduate qualifications, allowing students a continuous learning pathway to earn an international undergraduate or master's degree in popular music practice.
The $790 million Indian popular music industry is forecasted to grow at a CAGR of 13.5% to reach $1.5 billion by 2023 (PricewaterhouseCoopers, 2019). This growth, combined with a population of 1.3 billion, out of which 50% are under the age of 25, presents opportunities for popular music education to thrive in India in the coming years. If popular music education is supported by effective government policies and responsible private investments, the country has the prospects to become the most significant popular music education market in the world.
References:
International Federation of the Phonographic Industry. (2019). Music Listening 2019. Retrieved from https://www.ifpi.org/downloads/Music-Listening-2019.pdf 
PricewaterhouseCoopers. (2019, June 6). India's entertainment and media industry to clock over INR 451,373Cr by 2023: PwC Report [Press release]. Retrieved 28 November 2019, from https://www.pwc.in/press-releases/2019/global-entertainment-and-media-outlook-2019-2023.html