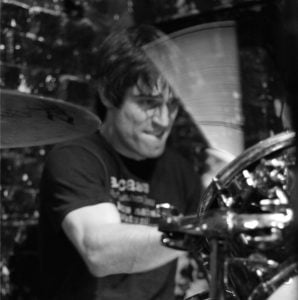 Gareth Dylan Smith is a professional drummer and music educator with 25+ years' performance experience and over 20 years as a drum teacher. Gareth has performed and recorded with some of the biggest names in rock, including Roger Glover, Bernie Tormé and several former members of Iron Maiden. He has played for scores of musical theatre productions in London, across the UK and Europe, including Little Shop of Horrors, Company, Les Miserables and Into the Woods. He has played festivals including Glastonbury, Rebellion, Beautiful Days and Strummer Camp with London-Irish Psycho-Ceilidh band Neck, and played on a string of acclaimed albums with Stephen Wheel, Eruptörs, Mark Ruebery, Gillian Glover and V1. He has worked at the cutting edge of performance and recording technology, such as pioneering real-time, low-latency transatlantic internet music making with Zack Moir, Paul Ferguson and Joe Bennett.
Gareth has written for magazines including Rolling Stone, Drummer, iDrum and Rhythm, and for blogs that include Pop!, Dr Drums Blog and Thinking About Music. His work has been published in the Times Higher Education supplement and in two dozen articles in the Grove Dictionary of American Music. Gareth is founding editor, with Bryan Powell, of the Journal of Popular Music Education. He has written and published widely on music education, in peer-reviewed scholarly journals and books. He co-wrote, with Hildegard Froehlich, Sociology for Music Teachers: Practical Applications, and penned the seminal sociological study of drummers, I Drum, Therefore I Am: Being and Becoming a Drummer. He is lead editor of the Routledge Research Companion to Popular Music Education, and Punk Pedagogies: Music, Culture and Learning.
Gareth has taught extensively at primary schools and secondary schools in the UK, and at universities in the UK, Europe and the US, including University of Cambridge, New York University, Columbia University, Florida International University, Ithaca College and Inland Norway University of Applied Sciences. Gareth is Manager of Program Effectiveness at Little Kids Rock in New Jersey, USA, and President of the Association for Popular Music Education. He has earned undergraduate and graduate degrees in music and popular music performance, and holds both a master's degree and a PhD in music education. He likes running, cycling, swimming, travelling, cakes, nuts, red wine and black coffee.
Find Gareth :
Ebooks by Gareth Dylan Smith
Posts by Gareth Dylan Smith
Some people seem to think that it stops with [...]
Gareth Dylan Smith Drumming (with His Eyes Closed) [...]