I love gift guides. There's nothing better than someone on the internet telling me what I should buy for the people in my life! What is so great about gift guides? If you're someone like me (who does not enjoy shopping), it's nice to have a perfectly curated gift at the click of a button.
This gift guide is specifically for the music educator in your life. As a music educator of 15 years, I am well-versed in the world of treble clef jewelry and cheeky music teacher mugs (heck, I've even gifted some of these). While we all love a good music notes lanyard, this gift guide is focused on goods from smaller businesses and makers that you can support this holiday season and the whole year through!
1. A Personalized Baton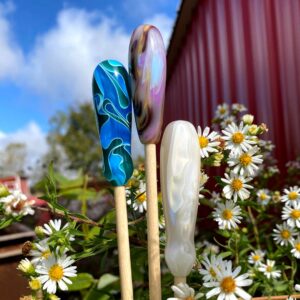 F-flat author Michelle Rose recommends these beautiful acrylic batons by Garlinger. Since every conductor is different, consider snagging a gift card for the music teacher in your life! This would be a game-changer for those who are used to using cheap batons from Amazon (ahem). They come in various shapes and sizes, and you can even take a quiz on their site to find out which baton is best for you.
2. Ukulele/Guitar Strap
Does the music teacher in your life play ukulele or guitar? Buy them a custom strap that is functional and beautiful. There are tons of Etsy shops dedicated to accessories such as decals, straps, and more. I personally love the snowy mountain ukulele strap from this shop.
3. Apparel: From Music Teachers for Music Teachers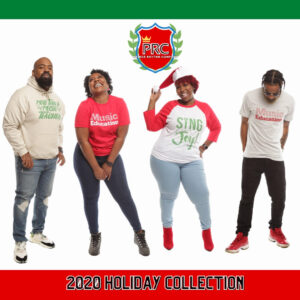 We all love a good music teacher t-shirt. Instead of grabbing one from any old internet store, support a small business run by a music teacher. We love the apparel from Franklin Willis' store, Prince Rhythm Company. (As I type this, I'm wearing the cozy "Lift Every Voice" hoodie. I'm obsessed!) Franklin is also an F-flat author and cares deeply about the communities he serves. We also love these designs from JoEllyn, also known as "the Tuneful teacher." She even has some cute onesies for your littles! For non-music related tees, check out our dear friend Kimberly McGlonn's shop, Grant Blvd, for sustainable styles.
4. Gift Cards for EveryBODY
Teaching is hard! And, teaching music can be extremely physical and tiring. Whether it's a virtual dance class or a gift certificate for a massage, prioritizing teacher self-care has never been more important than in 2020. I personally LOVE taking virtual classes through Secret Circus Philly. Now is a great time to find out what your teacher friend needs and help support small businesses!
5. Physical Books
After a long day of virtual teaching, there is something incredible about picking up a book and unplugging from all of the devices. Burnout: The Secret to Unlocking the Stress Cycle, Switched on Pop, Why are all the Black Kids Sitting Together in the Cafeteria? are just a few that our F-flat authors have been loving. And, instead of buying your books from Amazon, consider supporting a local business like Harriett's Bookshop in Philadelphia (Did you know that the period between Thanksgiving and the New Year is the most important sales time for small bookshops?).
6. Allllllll the Coffee
When I polled our teacher community to find out what they like to receive around the holidays, "gift cards" for coffee ranked #1! Again, find a local shop to support and grab your teacher friend a gift card, a bag of coffee, or a fun mug (Note: if your teacher friend is teaching in-person, the straw mug is a MUST). This website can help you find a local coffee shop in your area. You can also grab a one-of-a-kind mug for your teacher friend! I'm partial to my best friend's Etsy shop, and there are many other local makers on there.
7. eBooks/eMaterials
Did you know that we offer gift cards at F-flat Books? That's right! You can send your music teacher an electronic gift card that they can use on our site for various goods. Browse our shop for eBooks and eMaterials. From interactive eBooks like Edward's Rhythm Sticks to teaching guides like Teaching Music Online, every purchase you make on our site helps support our authors and our non-profit partners. If you want to shop F-flat, you can also help your music teacher friend spruce up their classroom walls with a custom poster from Nate Holder. 
8. Dinner
Cooking can be hard after a long day of work. Have you ever thought about buying your teacher friend a meal subscription service?  Or a gift certificate to a local restaurant?  I personally love "make-at-home" meal kits that I can cook with my kids. The stress of shopping and planning is gone, and we can just have fun in the kitchen. Check out purple carrot for plant-based meals.
9. Software Subscriptions
So many music teachers pay for subscriptions out-of-pocket. Memberships to Spotify or Soundtrap could be a game-changer for your music teacher friend! Find out what could best help them at home and in the classroom. Do a little research and find out what they need.
10. Cards
Teaching is hard and can oftentimes be a thankless job. As a teacher, the #1 gift I love more than anything else is to hear from my students. If the music teacher in your life has made a difference, tell them that! Letter from students, drawings, even recordings of them playing are all meaningful gifts that can make this holiday season just a bit brighter.
What about you? What are your favorite gifts to give and receive??